The growing contribution which education makes to culture, society and the economy has been long recognized and emphasized.
The purpose of Education Statistics is to facilitate the process of decision-making and policy formulation by providing a range of statistics on the quality and quantity of the education being currently provided. The data on Education Statistics focuses on formal education within public institutions.
Trinidad and Tobago's Education levels Adaptation to ISCED
(ISCED – International Standard Classification of Education)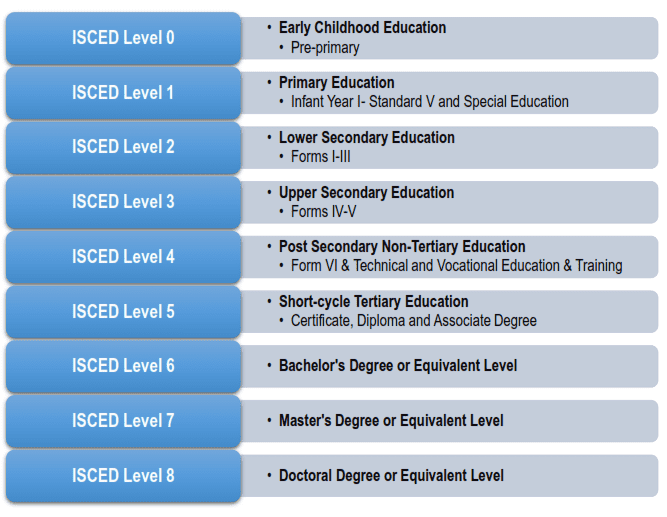 In Trinidad and Tobago, the national school system comprises pre-primary, primary, secondary, technical and vocational education and training (TVET) and tertiary education levels as well as special education and teacher education.
Early Childhood Care and Education is the first phase of the education system in Trinidad and Tobago. ECCE targets children aged less than 5 years. Education centres cater to children aged 3 to 4 years, while Care centres accommodate children 0-2 years. However, in exceptional cases, some children turn 5 years while at the ECCE level. Students at this education level experience programmes that are developmentally appropriate, and promote the holistic development of young children, thus laying the foundation for lifelong learning.
At the primary education level, students experience 7 years of compulsory learning from Infant Year I to Standard V. Primary schools cater to children aged 5 to 12 years. However, in exceptional cases, children who are aged 4 years and turn 5 years in the academic year of entry and children up to age 14 years access primary education. The primary education curriculum is designed to prepare students with the knowledge, skills and dispositions to optimise their own development, to constitute a caring, respectful and socially conscious citizenry and to competently lead our country onto the world stage.
The Ministry of Education (MOE) provides specialised services for students with special education needs at all ages. However, the average duration of special schooling is 10 years. Special Education facilitates learning by individuals who, for a wide variety of reasons, require additional support and adaptive pedagogical methods in order to participate and meet learning objectives in an education programme. Special schools are considered part of the primary education level. However, inclusive education is promoted at all levels of education.
At the secondary education level, students experience at least 5 years of compulsory learning from Form 1 to Form 5 or age 12 to 16 years. However, secondary school also caters to students at the advanced secondary level (Lower and Upper 6 Forms) up to age 20 years. The secondary level comprises lower secondary (Forms 1 to 3), upper secondary (Forms 4 to 5) and advanced level education (Lower and Upper 6 Forms). Students at the secondary education level are exposed to a wider range of subject areas (both general education and TVET) and a greater degree of programme divergence. Secondary school students possess widely varying levels of literacy and numeracy competence.
After secondary school, some students pursue TVET. However, there are no academic entry requirements at some TVET institutions. Hence, TVET can also be accessed by persons who have not completed secondary school. TVET is offered in a wide range of crafts and skills. After secondary education, at the CSEC or CAPE levels, students also enroll in Tertiary Education, which includes Certificate, Diploma, Associate Degree, Bachelor Degree or equivalent, Master Degree or equivalent and Doctoral Degree or equivalent programmes.
The Education System of Trinidad and Tobago at a Glance
| INDICATORS | Pre Schools/ ECCE Centres (2018/2019) | Primary Schools (2018/2019) | Secondary Schools (2018/2019) | Tertiary Institutions (2017/2018) | Special Schools (2018/2019) |
| --- | --- | --- | --- | --- | --- |
| Number of schools/ institutions | 841 | 558 | 199 | 55 | 43 |
| Government | 111 | 137 | 91 | - | 4 |
| Government Assisted | 40 | 340 | 43 | - | 8 |
| PUBLIC | 151 | 477 | 134 | 7 | 12 |
| PRIVATE | 631 | 81 | 55 | 47 | 29 |
| SERVOL | 59 | - | 10 | 1 | 2 |
|   | | | | | |
| Enrolment | 26 657 | 133 460 | 96 829 | 37 328 | 552 |
| Government | 4 286 | 38 387 | 56 262 | - | 138 |
| Government Assisted | 1 293 | 84 958 | 28 629 | - | 414 |
| PUBLIC | 5 579 | 123 345 | 84 891 | 37 328 | 552 |
| PRIVATE | 18 898 | 10 115 | 11 515 | - | - |
| SERVOL | 2 180 | - | 423 | - | - |
|   | | | | | |
| Teachers/ Lecturers | 2 394 | 6 978 | 6 928 | 2 049 | 103 |
| Government | 340 | 2 209 | 4 969 | - | 43 |
| Government Assisted | 117 | 4 769 | 1 959 | - | 60 |
| PUBLIC | 457 | 6 978 | 6 928 | 2 049 | 103 |
| PRIVATE | 1 743 | - | - | - | - |
| SERVOL | 194 | - | - | - | - |
|   | | | | | |
| Access/ Performance Indicators |   |   |   |   |   |
| Gross Enrolment Ratio (GER) | 68.9% | 103.3% | 96.6% | - | - |
| Net Enrolment Rate (NER) | 60.1% | 91.7% | 81.3% | - | - |
| Gender Parity Index (GPI) | 1.01 | 0.99 | 1.10 | - | - |
| Transition Rate (Prim. to Sec.) | N/A | 97.2% | N/A | N/A | N/A |
|   | | | | | |
| Human Resources |   |   |   |   |   |
| % Trained Teachers | 75.5% | 81.6% | 86.7% | - | 72.8% |
| % Female Teachers/ Lecturers | 99.3% | 80.9% | 71.3% | 87.8% | 87.4% |
| Teacher/ Lecturer Sex Ratio | 1:100 | 24:100 | 40:100 | 100:100 | 14:100 |
| Pupil-Teacher Ratio | 11:01 | 18:01 | 12:01 | 18:01 | 05:01 |
| Source: Education Statistics Digest 2020, Ministry of Education | | | | | |

Education Outcomes
Tables from Education Annual Report
Education Expenditure
Keywords: education, students, graduates, candidates, university, vocational, techvoc, csec, cxc, cape, schools, skills, training, statistics

---
Using Official Statistics for SDGs
---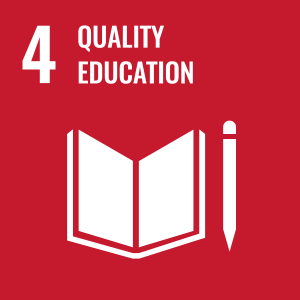 Indicators
4.1.1 Proportion of children and young people: (a) in grades 2/3; (b) at the end of primary; and (c) at the end of lower secondary achieving at least a minimum proficiency level in (i) reading and (ii) mathematics, by sex
4.1.2 Completion rate (primary education, lower secondary education, upper secondary education)
4.2.1 Proportion of children aged 24-59 months who are developmentally on track in health, learning and psychosocial well-being, by sex
4.2.2 Participation rate in organized learning (one year before the official primary entry age), by sex
4.3.1 Participation rate of youth and adults in formal and non-formal education and training in the previous 12 months, by sex
4.4.1 Proportion of youth and adults with information and communications technology (ICT) skills, by type of skill

---
 You may also be interested in:
Vital Statistics
Population
Labour Force by Educational Attainment
Education Expenditure
Ministry of Education