The Continuous Sample Survey of Population (CSSP) is a multi-purpose household survey with it's primary objective being to provide up-to-date data on the Labour Force characteristics of the population of Trinidad and Tobago on a continuing basis. It is also a vehicle for collecting data on other subjects of interest to both Government and Private Agencies for the purposes of planning and formulating policies.
Indicators
TOTAL LABOUR FORCE
| Indicator | 2019_Q4 | 2020_Q1 | 2020_Q2 |
| --- | --- | --- | --- |
| Total Non-institutional population 15 years old and over | 1,077,700 | 1,080,100 | 1,081,400 |
| Total labour force | 616,700 | 618,200 | 604,100 |
| Persons with jobs | 588,800 | 592,500 | 572,900 |
| Total unemployed | 27,900 | 25,800 | 31,100 |
| Persons without jobs and seeking work | 21,400 | 20,000 | 22,100 |
| Other unemployed | 6,500 | 5,800 | 9,000 |
| Labour Force Participation Rate (%) | 57.2 | 57.2 | 55.9 |
| Unemployment Rate (%) | 4.5 | 4.2 | 5.1 |
| Not in Labour Force | 461,000 | 461,700 | 477,300 |
| Source: Central Statistical Office | | | |
CONCEPTS
Persons in employment are defined as all those of working age who, during a short reference period, were engaged in any activity to produce goods or provide services for pay or profit.
Persons in unemployment are defined as all those of working age who were not in employment, carried out activities to seek employment during a specified recent period and were currently available to take up employment given a job opportunity.
The current supply of labour for the production of goods and services in exchange for pay or profit, computed as the sum of persons in employment and in unemployment.
Formerly known as economically active population
The unemployment rate
measures the share of workers in the Labour force who do
not
currently have a job but are actively
looking
for work.
The unemployment rate is computed as follows:
𝐔𝐧𝐞𝐦𝐩𝐥𝐨𝐲𝐦𝐞𝐧𝐭 𝐫𝐚𝐭𝐞 = (𝑈𝑛𝑒𝑚𝑝𝑙𝑜𝑦𝑚𝑒𝑛𝑡 ÷ 𝐿𝑎𝑏𝑜𝑢𝑟 𝑓𝑜𝑟𝑐𝑒) x 100
or
𝐔𝐧𝐞𝐦𝐩𝐥𝐨𝐲𝐦𝐞𝐧𝐭 𝐫𝐚𝐭𝐞 = 𝑈𝑛𝑒𝑚𝑝𝑙𝑜𝑦𝑚𝑒𝑛𝑡 ÷ (𝐸𝑚𝑝𝑙𝑜𝑦𝑚𝑒𝑛𝑡 + 𝑈𝑛𝑒𝑚𝑝𝑙𝑜𝑦𝑚𝑒𝑛𝑡) x 100
The labour force participation rate (LFPR) is a measure of the proportion of a country's working-age
population that engages actively in the labour market, either by working or looking for work.
The labour force participation rate is calculated by expressing the number of persons in the
labour force as a percentage of the working-age population.
LFPR(%) = Labour force ÷ Working-age population x 100
or
LFPR(%) = (Persons employed + persons unemployed) ÷ Working-age population x 100
Own-use production work refers to activities performed to produce goods or provide services intended for final use by the producer, their household and/or family.
This form of work is one of the oldest forms of organization of labour, whereby households produce mainly their own food, shelter and other necessities, and provide care and other services for household members, their premises and durables.
Information about participation and time-spent in own-use production work is essential to inform a wide range of policies including those targeting employment creation in rural areas, poverty reduction, food security, and provision of a wide range of services, including water supply, child and elderly care, domestic services, etc
Persons in own-use production of goods are defined as all those of working age who, during a specified reference period, performed any activity to produce goods for own final use.
Examples:
Producing and/or processing for storage agricultural, fishing, hunting and gathering products;

Manufacturing household goods (such as furniture, textiles, clothing, footwear, pottery or other durables;

Building, or effecting major repairs to, one's own dwelling, farm buildings, etc.
---

Coverage and Classification
GEOGRAPHIC COVERAGE
National coverage
UNIT OF ANALYSIS
standard occupational classification

Data Collection
FREQUENCY OF DATA COLLECTION
Quarterly
sample design
Stratified Cluster Sampling
topics covered 
Demographic characteristics – age, sex, ethnic group, education, place of birth, marital status
Economic activity – type of worker, occupation, industry, hours worked, income
Housing – tenancy, type of dwelling, toilet facilities, water supply, source of lighting
---
Labour Force Survey (LFS) Bulletins
---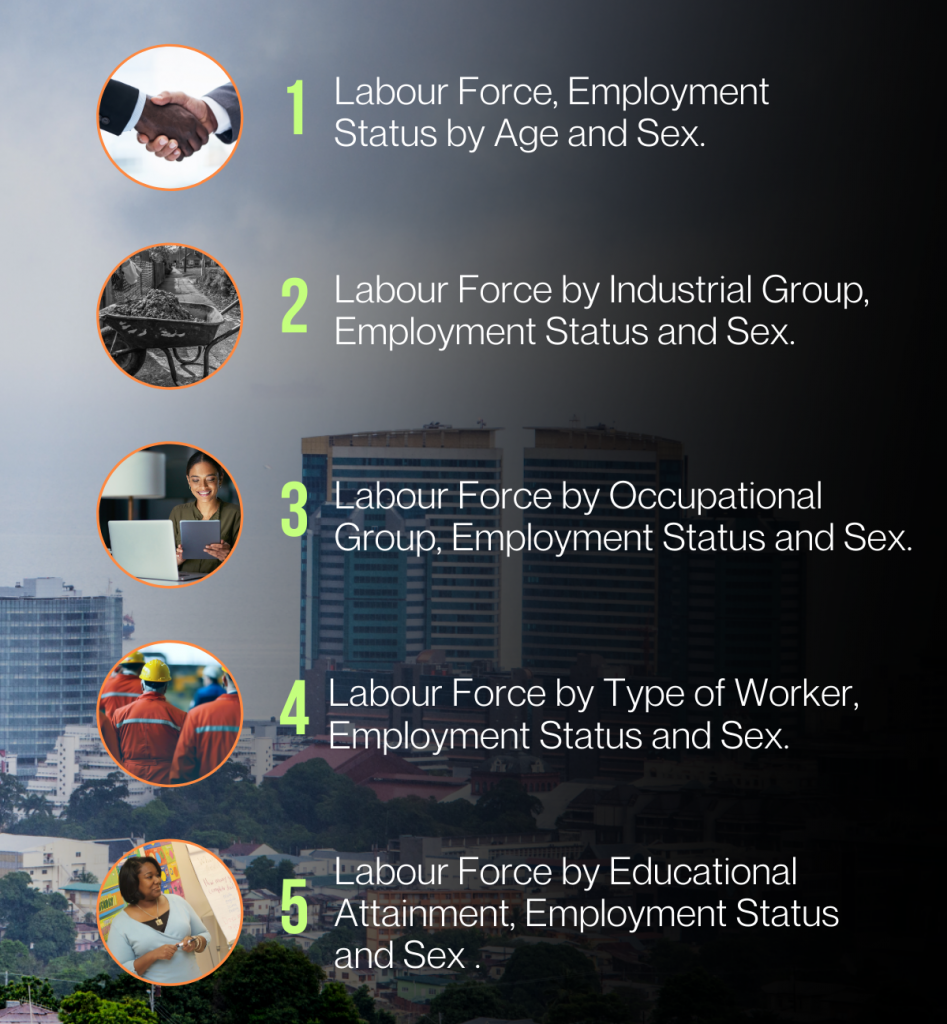 ---
The Economically Inactive Population (Out of the Labour Force)
This general category consists of:
(i) Persons who explicitly stated that they did not want work
(ii) Students (full time)
(iii) Persons engaged in Home Duties
(iv) The Retired
(v) The Disabled
(vi) Old Age Pensioners
(vii) Other persons, e.g. mentally challenged, inmates of prisons, hospitals, mental institutions etc.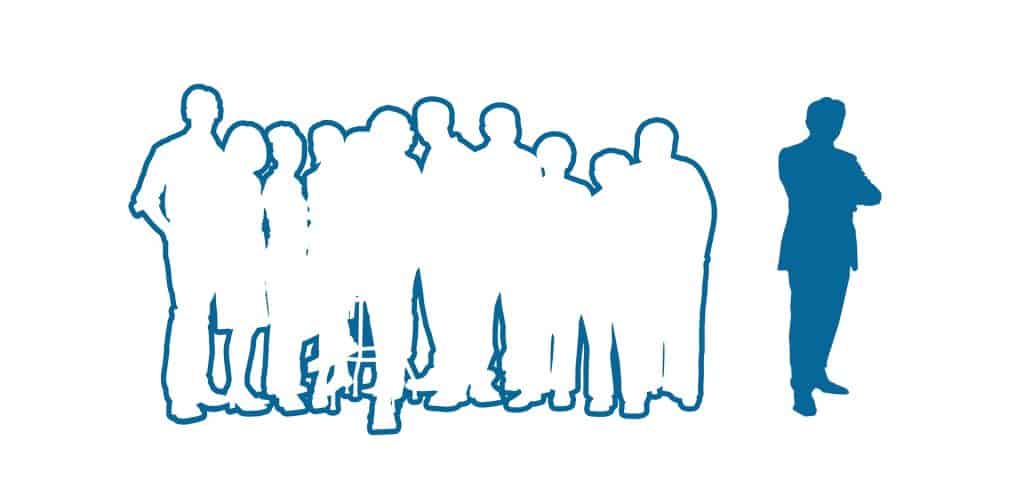 ---